A Family of Mushrooms Since 1925
Our goal since the beginning has been to consistently deliver the finest fresh quality mushrooms to our customers with the most intense focus on lightning-fast service in the industry. This intense focus on quality and service is legendary among our long-time customers. Basciani Foods currently packs & ships roughly 1.5 million pounds per week, of every variety of mushroom available.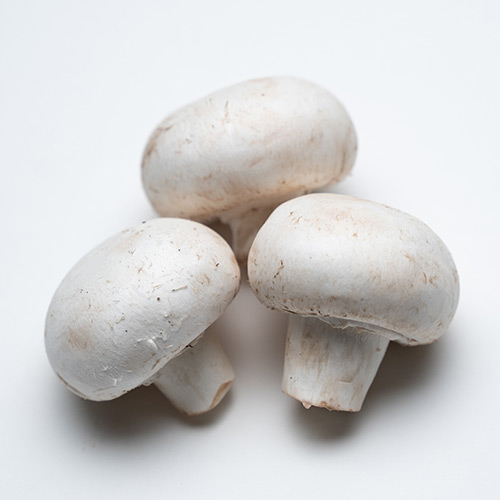 White
MILD / MEATY / VERSATILE
Also known as button mushrooms, their scientific name is Agaricus bisporus. These mushrooms vary in color from white to light brown. They can range in size from small (usually used for marinating) to large (used mostly for stuffing). Use raw for salads and vegetable trays. Marinated, stuffed or sautéed, they are the perfect vegetable to compliment any meal.
19 Calories / 0g Fat / 3g Carbohydrates / 3g Protein (per 3oz serving)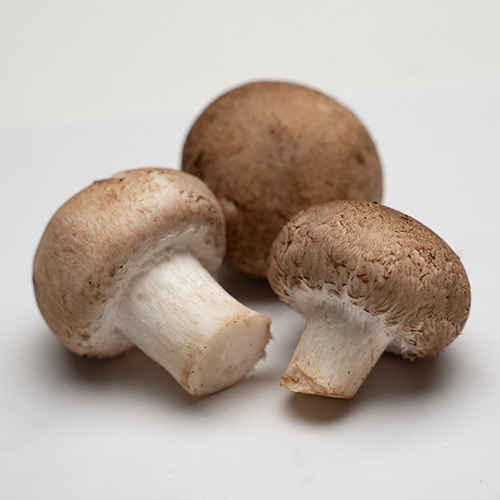 Crimini
MILD / EARTHY / MEATY
This is a brown variety of the common white mushroom, and may be referred to as the Italian brown. Criminis are considered to have a much more intense and 'earthy' flavor compared to the white variety. Their texture is also firmer than the white. Crimini can easily substitute white mushrooms if a deeper mushroom flavor is desired. In particular, with beef and wild game dishes.
19 Calories / 0g Fat / 4g Carbohydrates / 2g Protein (per 3oz serving)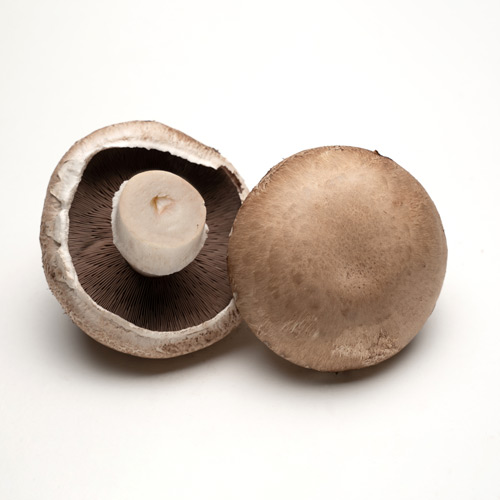 Portobella
MEMORABLE / RICH / DELICIOUS
This mushroom is very deceiving and is actually an overgrown Crimini. Because of the longer growing cycle, and a characteristic opened cap, this mushroom has an exquisite meaty flavor and texture. Try using whole on the grill or baked and substitute for meat in a burger. When sliced it can be used to substitute white mushrooms or Crimini in most dishes.
19 Calories / 0g Fat / 3g Carbohydrates / 2g Protein (per 3oz serving)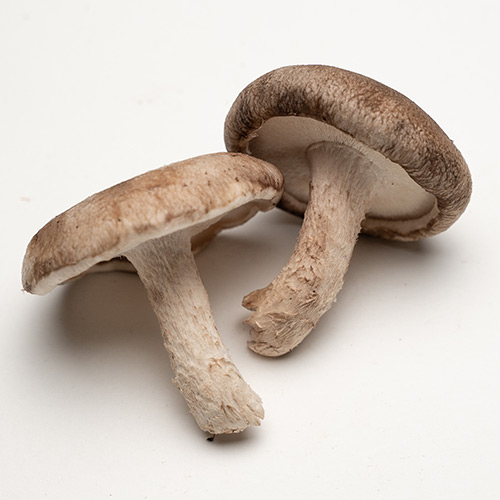 Shiitake
RICH / EARTHY / UMAMI
This mushroom is also known by a number of other common names, such as the Oak or Black Forest mushroom. Shiitake's scientific name is Lentinula edodes. These mushrooms can vary from very light tan to a dark brown, and they have a characteristic umbrella shaped cap, with an open veil and tan gills. Shiitake are best cooked, with a firm texture and wonderful aroma when used in any dish. Stems are very tough and should be removed and chopped finely. Perfect in pasta, soups, and in any entrée.
48 Calories / 0g Fat / 12g Carbohydrates / 1g Protein (per 3oz serving)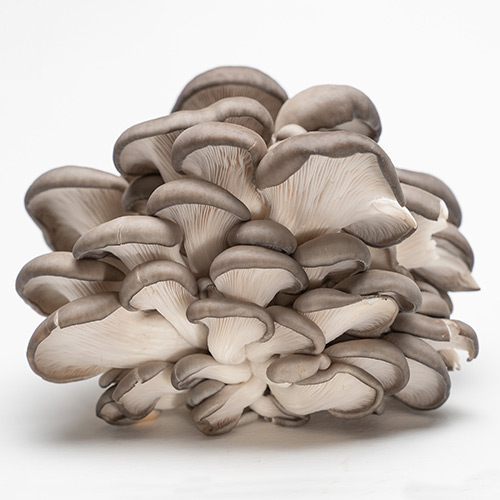 Oyster
DELICATE / VELVETY / MILD
This group of mushrooms varies by species, scientifically referred to as Pleurotus spp. The oyster mushroom comes in many different colors, ranging from white, gray, pink, and yellow, and can range in size from 1 to 3 inches. Their mild delicate flavor is most suited to cooking with chicken, veal, pork and seafood. Also try adding to soups and sauces. Small mushrooms of the colored varieties make a stunning garnish.
28 Calories / 0g Fat / 5g Carbohydrates / 3g Protein (per 3oz serving)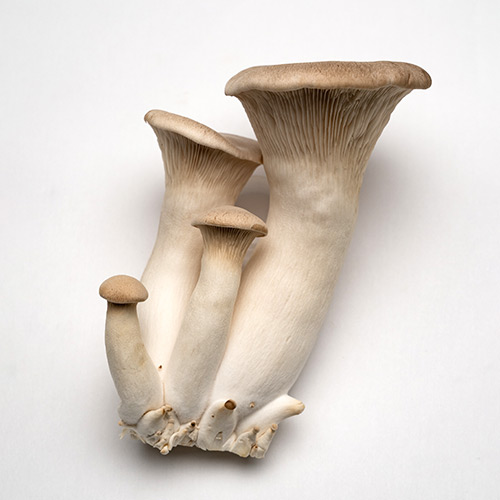 King Trumpet
EARTHY / UMAMI
The King Trumpet is a medium to large mushroom with a thick cylindrical stem and a flat cap. Ivory in color, these mushrooms can grow up to 20cm in length. They are firm, dense and chewy.
34 Calories / 0g Fat / 7g Carbohydrates / 1.7g Protein (per 3oz serving)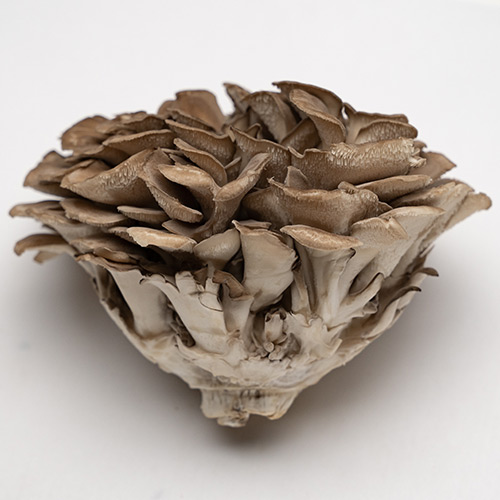 Maitake
EARTHY / UMAMI / SPICY
Ranging in size from small to very large, these mushrooms are typically 3-15 pounds, but can grow to over 50 pounds. These clustered mushrooms have leaf-like fronds or rosettes. These are sometimes called "hen-of-the-woods" because they peel apart like feathers. Maitake were sacred to the ancient Samurai warriors. They believed that consuming the mushrooms before battle made them invincible. The warriors would trade them to lords/royals for their weight in silver according to legend.
9 Calories / 0g Fat / 2g Carbohydrates / .5g Protein (per 3oz serving)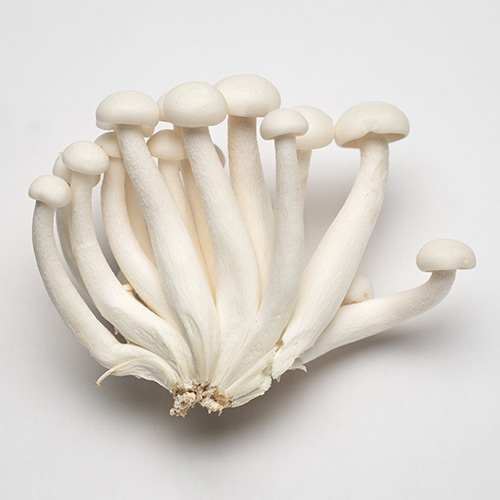 Beech
MILD / NUTTY / SWEET
These delicate and mild mushrooms have a sweet and nutty flavor and a crunchy texture that softens when cooked. White or brown varieties with slender stems and globular caps.
19 Calories / .25g Fat / 3g Carbohydrates / 2.5g Protein (per 3oz serving)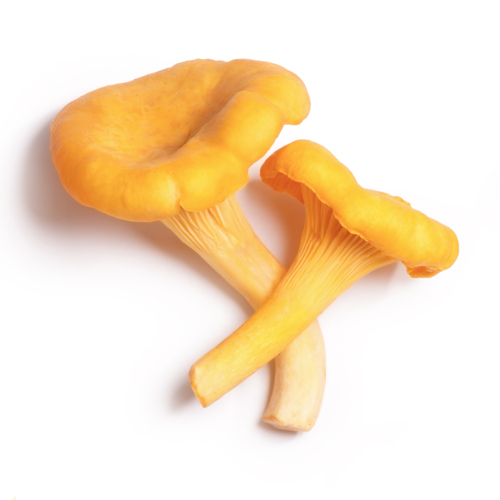 Chanterelle
FRUITY / EARTHY / UMAMI
Small to medium in size, Chanterelles have a convex shape and a wavy cap. They have a fruity aroma and a chewy yet velvety consistency when cooked.
14 Calories / .25g Fat / 3g Carbohydrates / .6g Protein (per 3oz serving)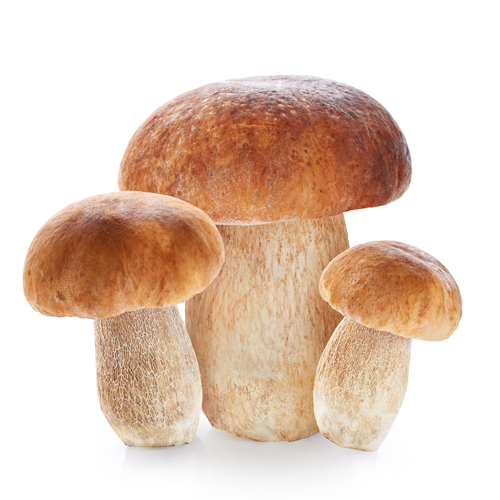 Porcini
HEARTY / EARTHY / NUTTY
Porcini mushrooms have a nutty and earthy flavor that is sometimes described as "meaty". They have a deeper more complex flavor than more common mushroom varieties, and work well to add depth to broths and sauces.
144 Calories / 1g Fat / 30g Carbohydrates / 6g Protein (per 3oz serving)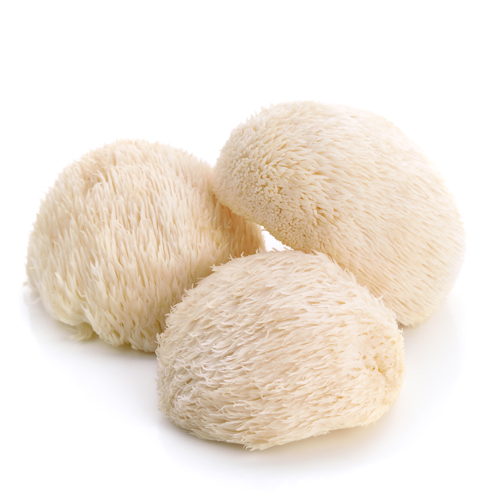 Lion's Mane
SWEET / MILD / UMAMI
White, large and shaggy, this mushroom resembles a lion's mane. They are tender and chewy with a mild, sweet, seafood flavor – reminiscent of scallops or lobster.
30 Calories / 0g Fat / 6g Carbohydrates / 6g Protein (per 3oz serving)